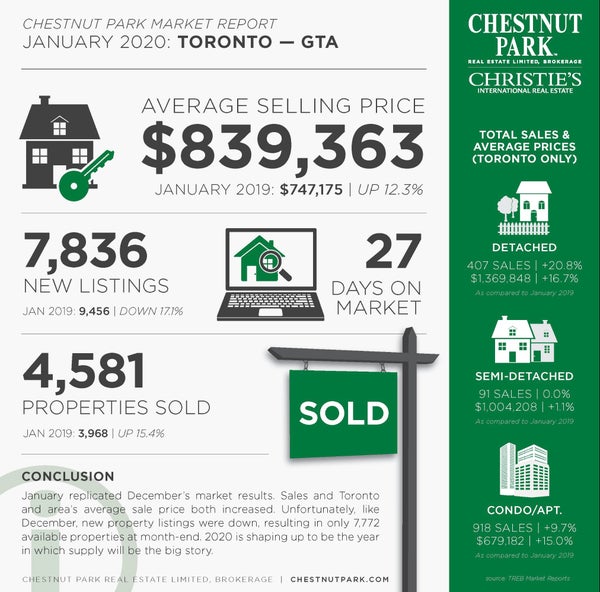 A new decade, but little change in Toronto's residential resale market. As anticipated in my December Market Report, January came in strong with 4,581 sales in the greater Toronto area. This was a stunning 15.4 percent increase compared to the 3,968 sales reported for January last year. Enthusiasm should be slightly muted, given the fact that last year's results were low by historical standards. For example, in 2016 more than 4,600 properties were reported sold, a number that jumped to 5,188 in 2017. 
Not surprisingly average sale prices also advanced in January, but as in the case of sales, far from record levels. In January the average sale price came in at $839,363, more than 12 percent higher compared to last year's average sale price of $747,175. The average sale price for all property sales in the City of Toronto (416 region) came in higher at $884,385. The highest monthly average sale price recorded for the Toronto and area market place was $920,000 in April of 2017.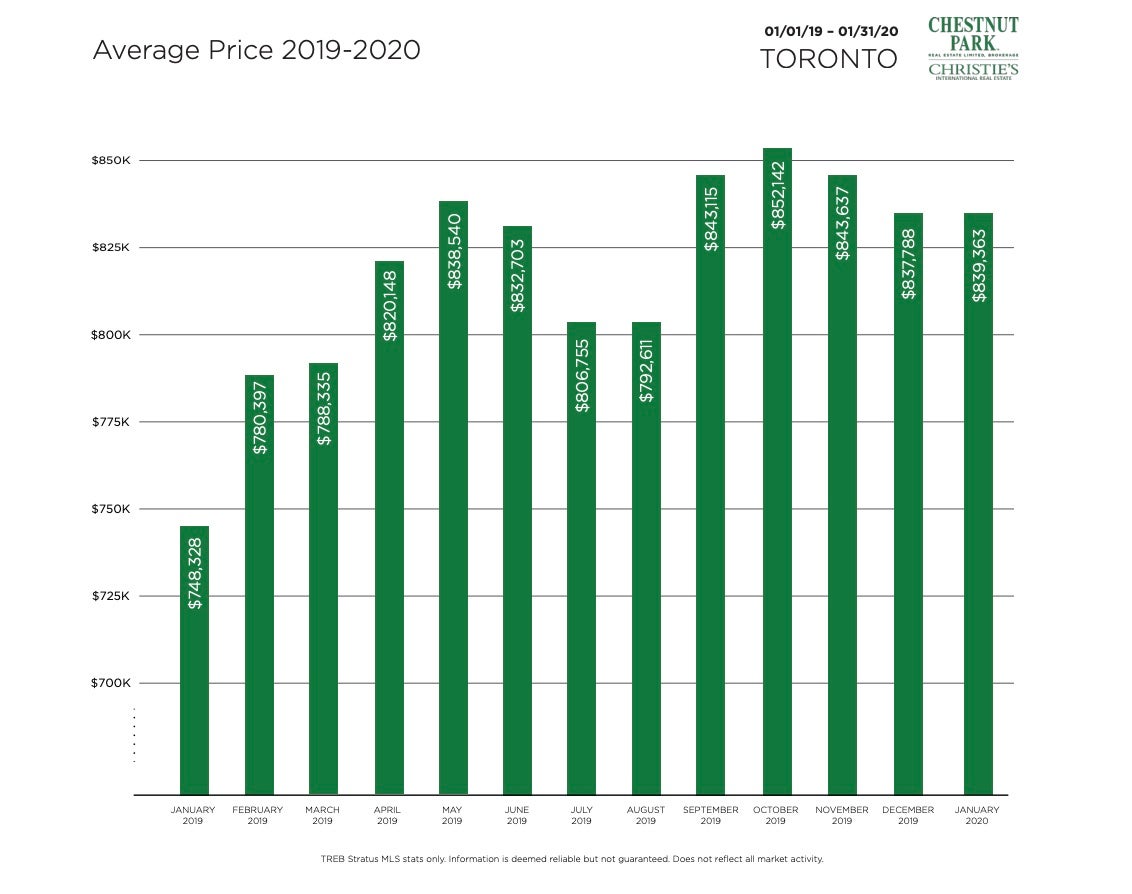 January's rising numbers become a little unnerving when considered against the back drop of available inventory. Only 7,836 new listings came to market in January, a decline of more than 17 percent compared to the 9,458 that came to market in 2019. Due to the large number of sales and the paucity of new listings, buyers enter February with only 11,962 available properties, more than 35 percent fewer properties than were available last year at this time. This will no doubt put upward pressure on prices, but with wages increasing by only 3.5 percent and mortgage stress testing in effect, there are limits as to how far buyers can stretch, particularly if interest rates stay stable or rise. 
2020 maybe the year during which higher priced residential properties see an increase in sales. Higher priced properties have statistically lagged behind the resurgence of the overall market. For example, in January 2018 only 76 properties having a sale price of $2 Million or more were reported sold. Last year that number increased to 90. This year 130 properties were reported sold in this price category, an increase of 44 percent compared to January 2019. It is interesting to note that the number of condominium apartments in this price point is also increasing. In January, 13 (or 10 percent) of the 130 properties that sold CHESTNUT PARK REAL ESTATE LIMITED, BROKERAGE | CHESTNUTPARK.COM REAL ESTATE MARKET REPORT JANUARY 2020: TORONTO REGION P R E PA R E D BY: Chris Kapches, LLB, President and CEO, Broker having a sale price of $2 Million or more were condominium apartments. Last year there were only 6. 
In the broader condominium apartment market supply is becoming a serious concern, as is the rise in average sale prices, particularly in the City of Toronto. At the end of January there were only 1,779 condominium apartments for sale throughout the greater Toronto area. In the City of Toronto there were only 1,246. These numbers represent a 33 percent decline compared to the number of condominium apartments available for sale last year at this time. Based on the number of sales registered in January, these numbers translate into 1.3 and 1.35 months of inventory, historic lows. 
It is not surprising that condominium apartment sale prices have soared. In January, the average sale price for condominium apartments in the greater Toronto area came in at $630,000. In the City of Toronto the number was 8 percent higher at $679,000. In Toronto's central districts, were almost 65 percent of all condominium apartment sales are recorded, the average sale price came in at $758,000, 12 percent higher than the Toronto market as a whole. It is also not surprising that all condominium apartment sales, both in the greater Toronto and City of Toronto market places, took place at 101 percent of their asking price. 
The rise in condominium apartment sale prices has had a spill over effect on semi-detached property sales. Over the last year the spread between the average sale price of a condominium apartment and a semi-detached property, particularly in Toronto's central districts has been dramatically narrowed. 

In January the average sale price for semi-detached properties was $1,000,000, only 24 percent higher than the average sale price of condominium apartments in the City of Toronto's central districts. As a result of this declining spread, buyers who might have chosen to buy a condominium apartment have instead looked to purchase a semi-detached property in some of Toronto's more desirable eastern and western trading areas. This has in turn resulted in a unprecedented shortage of available semi-detached properties. In January, there were, shockingly, only 92 semi-detached properties in the entire City of Toronto available for sale. In January there were 91 sales. Effectively every semi-detached property that becomes available for sale will be sold before the end of the month. And again, not surprisingly, for 107 percent of the asking price in Toronto's eastern trading areas, and 104 percent in the western trading areas. 
January's residential resale date makes it abundantly clear that the Toronto and area market pace is strong and robust. What is also clear is that demand far exceeds supply. Unless sellers decide to take advantage of rising resale prices, 2020 will be remembered as the year of buyer frustration. There is no doubt that unless supply can be increased, like other international "supercities", buyers will begin to look to second-tier cities around Toronto to satisfy their housing needs.
PREPARED BY:
Chris Kapches, LLB, President and CEO, Broker

CHESTNUT PARK REAL ESTATE LIMITED, BROKERAGE | 
CHESTNUTPARK.COM